Your Best Option in the DF is an Independent Escort
The Photos Are Links. Click On Them For More About That Escort
 In Mexico City, independent escorts are the way to go.  You have other options, like streetwalkers and strip clubs.  But if you're in the DF for business, you might not want to fight traffic for several hours for a few minutes of pleasure.   Many escorts live in the outlying areas.  She might travel 3 hours round trip for her one hour appointment with you.  Let her be the one to sit in traffic.  It can also be dangerous in Mexico City.  Your hotel room is the safest place.  Plus, you won't find better variety, quality or convenience than the many, many listings for DF prostitutes. Your best option in Mexico City is an independent escort.
CLICK ON THE ESCORT PHOTOS.  THEY ARE LINKS
The photos are links to full page ads with all the information you are looking for.  We've tried to provide the info you need in our escort ads.  The facts should help you find the perfect girl.  Some guys are on a budget, and have a limit on the price they can pay.  Others simply have to have a certain sex act.  "If she doesn't kiss with tongue, I can't enjoy the experience".  Some of us are drawn to short girls, women under 25, big-breasted babes….we all know what pleases us, and it's different for every gentleman.  
Everyone Likes Santa
A good example is Santa, shown in the photos with purple hair and handcuffs.  She's a highly sought after model who is also a sex addict.  Our form doesn't even cover all the kinky things Santa can introduce you to….or that she'll allow you to do to her.  Does she kiss?  Check.  Does she give natural oral?  Check.  Does she speak English?  Check.  Anal? Fantasy? Threesomes? Roleplay?  Check check check check.  We give you all the information you need to make a good choice.  Santa checks all the boxes, unless you like Big Girls.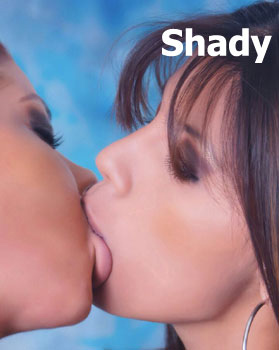 Treat Yourself to a Threesome – Just $250 USD
Shady and her girlfriend Melanie are healthy, bored and horny as hell.  Business is down for them, too.   From now until the end of April, 2020, enjoy a one hour threesome for just  $250. (Regular $400).  Includes GFE, lesbian show, BBBJ-CIM.  Both girls enjoy doing anal for $50 more.  To see more photos and details, go to Shadys VIP page.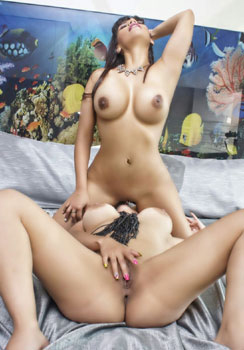 The Photos Are Links. Click On Them For More About That Escort