Mexico City Strip Clubs are in Tlalnepantla
Too Expensive, Too Many Rules
LaTraveler writes with authority about Mexico City strip clubs. In an excellent forum post, LaTraveler says "Excess and Dow Jones, (which is across the street) are still open. I call these gringo clubs, which are expensive and with lots of rules.
Inexpensive, No Rules In Tlalnepantla
La Traveler continues. "North of Tlalnepantla on Gustavo Baz, there are three strip clubs all close together. One is called Carosel and most taxis know this one. Carosel has a 5 minute private for 300 pesos. Trebal is just south and it has decent looking girls and it has two songs for 200. The place in between has one song per 100. All of these places have no rules but YM will V.
I have gotten super BBBJ in these places for a 200 peso tip and even have has ATM more than once. Drinks are cheap, $30-$40 and no cover and they are open during the day.  I have not seen hardly any gringos in these places but I have gone often and had NO problems or even any bad eyes. I would never go into the city and get ripped off when I can go here and take any girl to my hotel for $600!!!"
La Envidia
There's not much written about La Envidia.  They are located in Mexico City. Phone, 56616331 · Address. Avenida Insurgentes Sur 2144.  Henry VI writes on the CityXGuide "Exxess is still open, but it is too far from downtown. A better option, distance wise, and with comparable talent is Envidia in San Angel."
Other Possibilities
Queen's Mexico.  Av. Insurgentes Sur 210, Hipódromo, 06700
Daniel Gentleman's Club, Solón Argüello 84, Zona Urbana Ejidal Santa Martha Acatitla Sur, 09970
Kinky Bar, Calle Amberes 1, Juárez, 06600 Cuauhtémoc,
El Closet, Saltillo 60, Hipódromo, 06100
Woman's Club by Premier, Av de los Insurgentes Sur 571, Nápoles,
03810
The Club, Varsovia 54, Juárez, 06600 Cuauhtemoc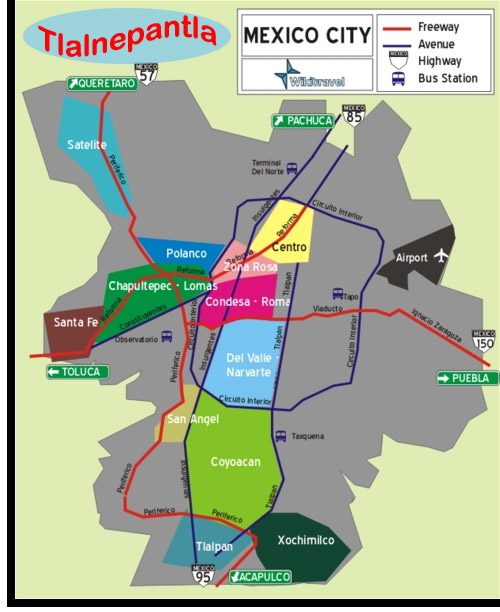 Where Am I?  Where is Tlalnepantla?
If you're interested, these guys are talking about the burbs around Mexico City.  San Angel is an area in Mexico City , but SW of downtown. (Henry VI recommends the Envidia strip club there) The maps at the left might help you orient yourself.  It's about 16 km and a half hour drive from Polanco to Tlalnepantla (pronounced Tall-All-nah-PANT-la.)   If you want a specific map going from one address in Mexico City to another address in Tlalnepantla, use the "directions feature" of Google maps.  
Safety
Mexican strip clubs are usually some of the safest places you can be.  There is private security for the protection of the patrons.  The owners may not like Americans, but everyone loves Gringo dollars.  (We recommend you take pesos, but you know what we mean.)  
Outside the clubs is another story.  Arrive and leave in taxis and you should be just fine.  If you want company or an interpreter, you can probably get your taxi driver to come in.  You're buying, of course.  Taxi drivers don't make enough for strip club fun.  Uber drivers own their own cars, and won't drink and drive.