Mexico City Escorts For Threesomes
Shady, Featured Threesome Escort of the Month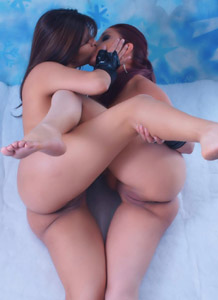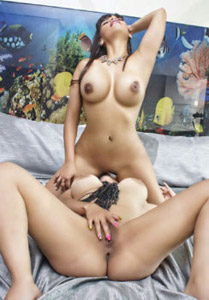 Shady, Completely Bisexual
If you like threesomes, you know they are all about chemistry.  If the girls don't like each other, it's not going to be the best.  Shady loves other women.  She prefers men, but loves giving and receiving oral sex from other women.  You can see it in her photos.  Shady gives life to your threesome by bringing sexual passion that isn't fake.  Don´t worry if you don´t make her cum.  Take care of yourself and rest.  Shady and her friend (or your woman, if you are a couple) can satisfy one another. Visit her VIP page for more photos, threesome prices and Shady's menu of sexual services. 
How Threesomes Work
Maybe you've been curious about threesomes, but don't have enough experience to know how to completely enjoy them.  The first thing you need to realize is that the girls are there to please you.  You don't worry about satisfying two escorts.  It's their job to satisfy you.  Now think of all the things you enjoy about receiving sex.  Do you like kissing?  Having your nipples licked?  Kissing the breasts of your girl?  Getting oral stimulation?  With one girl, you enjoy one thing at a time.  With two escorts, one can be kissing your lips while the other is kissing you down below.  It's almost sensory overload.  It's a tidal wave of pleasure.  
Chemistry; The Odds Are On Your Side
Ever notice that when the sexual chemistry is there that everything is more pleasant?  You can have the most beautiful girl in the world but if you don't like her as a person, the sex sucks.  With a threesome, you double your chances.  If one girl's a dud, chances are the other escort and you will be hot for each other.  Maybe one is better at kissing and the other is better at sucking.  Let the naughty chicas specialize.  
Pick One Girl.  Let Her Pick The Other.
This is not intuitive, so let us explain.  A threesome is all about chemistry.  If you pick two random escorts, you are asking too much.  They show up separately to have sex with not one but TWO strangers.  Prostitutes are people too.  It takes some time to get comfortable before anyone has sex, even for professionals.  There is a reason why most escorts only serve men, even bisexual girls.  Women are picky about other women, much more than they are about men.  Let's examine what you get when you let your first choice pick her partner
They'll Travel Together
Don't forget.  This is Mexico City.  If you pick one girl who lives north of the Airport and the other girl lives nearly to Tlalnepantla, they'll travel separately.  One is guaranteed be late.  Do you start sex with the first one?  Then the second walks in and she's almost intruding.  Or do you try to entertain some girl you don't know while you wait for the other.  What if the second one is an hour late?  The one who was on time will be justified in asking to be paid for the first hour. On the other hand, two girlfriends will drive together.  They'll arrive together.  During the drive, they'll get on the same wavelength.  You've just created positive chemistry.  They'll both have sexual fantasies about the other.
What They'll Think Of You
You pick the first girl, and allow her to pick the second.  What you've just done is elevated your contact to #1 Girl.  You have honored her.  Plus, Girl #2 will owe her a favor.  Those are two huge positive things for an escort. When she arrives, she feels like the hostess.  She will introduce you to her friend, as if you and she are already lovers.  You're already intimate.  What about Girl #2?  She will not only feel grateful to have been included, but she wasn't selected.  She has to earn your favor.   Your evening is set up for success, and you haven't even touched them.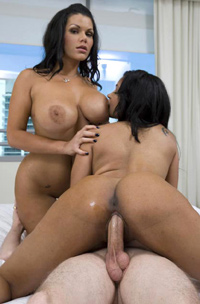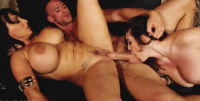 Do You Want A Lesbian Show?
Independent escorts are used to sucking strange cocks.  But women are much more shy about kissing, fondling and giving oral sex to another woman.  When you give the power of selection to Girl #1, she will probably pick someone she likes and has worked with before.  Just driving over together they will get hot for one another.  When you tell them you'd like to watch them get everything started (that's normal) they will dive in.  Their kisses will be passionate.  They'll probably both have orgasms before you even join.
Imagine the Sex That You'll Receive
You have honored both girls in different ways.  You've made the drive to your hotel a pleasure for them both.  Now instead of being obligated to touch a strange woman, they are getting paid to make love to a woman they really enjoy.  They will take their gratitude and their passion and give it all to you.  You'll get real kisses.  When they suck you, they'll want you to feel the pleasure you have given them.  Maybe they don't usually let clients cum in their mouth.  Don't be surprised if you get services she's never given a client before.  Hopefully, you reserved more than one hour.  You may be spoiled for life.  You'll never want just one woman ever again.