Mazatlan; Place of the Deer
Place of the Escorts…and Cartels
Mazatlan means "place of the deer", but a better name would be "place of the pulmonia".  It's also home to some of the most beautiful escorts in Mexico.  But back to the pulmonias.  Most of the taxis are unique, Volkswagen powered, open air vehicles that are distinctly Mazatleca.  They've even erected a statue in its honor.  Mexican tourists come from all over Mexico, especially Los Mochis and Durango.   
To entertain the male tourists, Mazatlan has 3 of the best strip clubs in Mexico, 2 of the best brothels and plenty of amateur and professional independent escorts.  Since prostitution is primarily for Mexicans, prices are some of the lowest in the country.  For all these reasons, we rank Mazatlan #5 on our list of the Best Escort Cities in Mexico. 
Cartel Battleground
Mazatlan's colorful history now includes drug violence as the Zetas, the Sinaloa Cartel and the remaining Beltran Leyva gangsters occasionally duke it out on the streets with assault rifles.  Mazatlan is the largest city in Sinaloa, and one of the most violent drug states of Mexico.  A lot of the young men have been killed.  Bad for them, good for you.  The economy sucks, and eligible men are hard to come by.  Teen widows and other gorgeous single women abound.  Many are eager to get naked with you for an hour or two.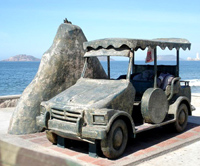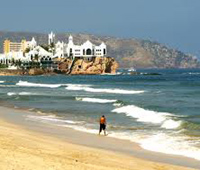 Tourism and Fishing
Tourism and fishing are the only sources of income.  Sports fishing is spectacular for marlin, dorado, tuna and the occasional swordfish.  (Fishing for brothels and strip clubs is pretty spectacular, too.)  The beautiful beaches bring visiting surfers as well as normal tourists, though the city is protected from the biggest swells by the Baja Peninsula.  The population is around 400,000, except during the months of August and September.  Then, everyone who can leaves town for someplace cooler.
Swamp City
The city was built on a swamp, and during the rainy season in late summer the humidity becomes unbearable.  Visitors and locals merge late afternoons and early evenings on the Malecon, a wide expansive sidewalk that runs for miles along spectacular beaches.  Sunsets are amazing.  Cruise lines visit almost daily in high season. Hotels and wonderful seafood restaurants along sandy beaches beckon tourists.  There is a slow economy in Mexico, which is great for English speaking visitors looking for escorts.
Gorgeous Women 
The women of Mazatlan are, in a word, gorgeous.  Take on stroll along the world famous Malecon, the miles long beachfront sidewalk the width of an average city street.  You'll see long legged young beauties in 4-inch heels, tight skirts and showing plenty of tit out for a walk with their husband and children.  The town oozes sex.  The girls physically become women at 14. When Catholic school lets out, the young girls walking home in their short plaid skirts are a pornographic fantasy.  They are all hot-blooded, and many become pregnant at 15 and 16.  If they stay off the frijoles, they remain stunningly beautiful into their 50's.
Low Prices
Many stunning young girls put themselves through school by pleasing "rich" gringos (Americans) and Canadians.   It doesn't take much money.  A young woman you'd pay $1,000 USD for in the states (an 8, 9 or a 10 on a scale of 10) can be yours for $1,500 pesos for an hour, or about $100 USD.  Except for a privado in La Botana strip club or an escort who does extra services, $1,500 pesos is the top price.  Many girls offer specials for as little as $700 pesos (about $35 USD) on Mileroticos.
White Skin Is Prized
Another cultural difference is that "white is beautiful" in Mexico.  Because light skin is rare, an average guy from Up North is considered "guapo" (handsome). The final difference is that it's common for older men to be with younger women.  If your girl acts like you are the best sex she's ever had, she's probably not acting.  If you're a mature white man with good manners, a strong sexual appetite and a little bit of money, don't be surprised if she wants to keep you!
Escort Amateurs
There are many more differences you'll like.  One is that many girls don't know they are hookers.  They want romance and passion out of any sexual encounter.  They might only do it for money once a month.  Bringing flowers or a small gift will rock their world.  (Mazatlan has inexpensive handmade silver necklaces, bracelets and earrings.) Another difference is that the normal time is often two hours, far longer than the States or other cities in Mexico.
Enjoy the Cultural Confusion
These girls reflect the confusion of the Mexican culture.  They don't advertise because that would mean they are whores.  They won't fuck you for free because that would make them sluts.  You'll meet these girls while they are at their jobs in offices, in restaurants, in bars and even on the street.  Treat them with respect, then enjoy great sex.  But understand that they expect you to be "generous".  $1000 pesos ($50 USD) plus cab fare should be enough for an average looking girl in her 30's.  Pay up to double for a teen girl, pay less than $1000 for a woman in her 40's.   Only in
Guadalajara
are there more opportunities to make local Mexican girls into girlfriends.